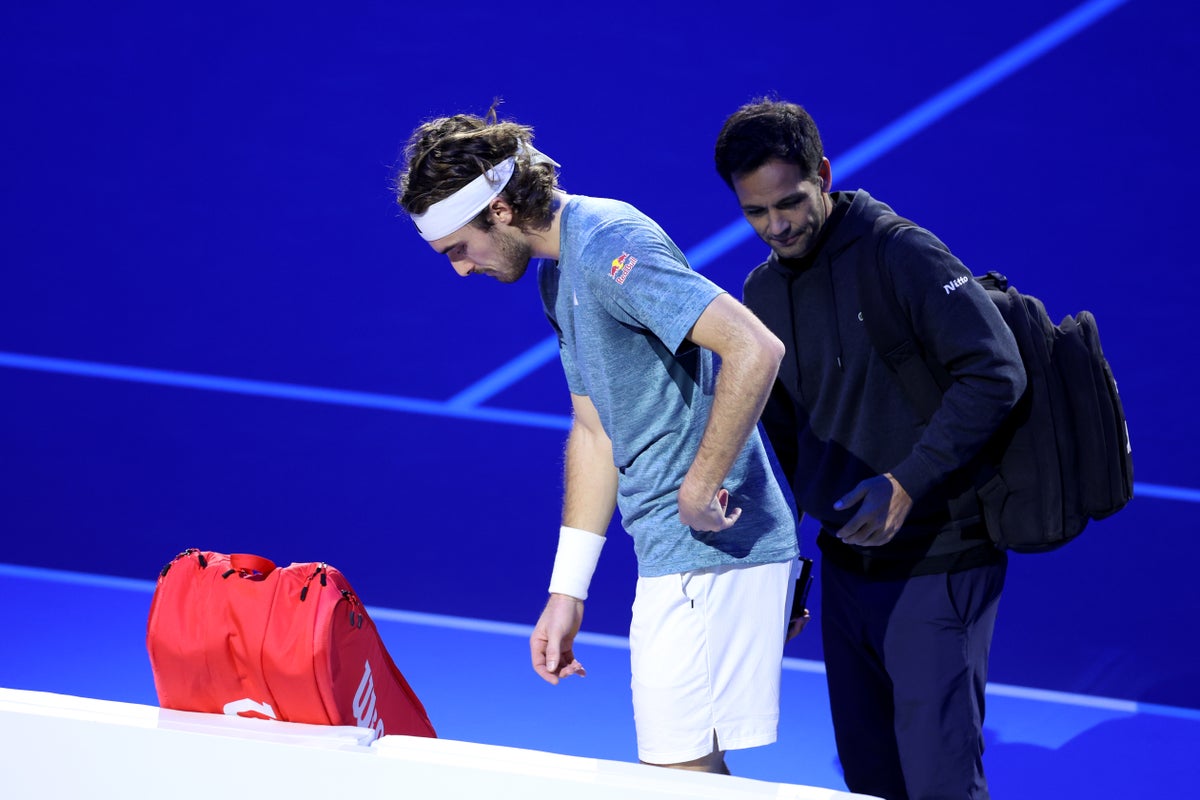 Sign up to our free sport newsletter for all the latest news on everything from cycling to boxing
Sign up to our free sport email for all the latest news
Stefanos Tsitsipas lasted just three games of his second match at the ATP Finals against Holger Rune before pulling out with injury.
There were doubts over the fitness of the Greek star ahead of the tournament in Turin but he did not appear unduly troubled during an opening loss to Jannik Sinner on Sunday.
However, Tsitsipas barely moved during the third game against Dane Rune and sat down gingerly on his bench trailing 2-1.
He called the trainer but, after a brief chat, he was helped to his feet and shook hands with Rune, leaving the court to a chorus of jeers and whistles from the disappointed crowd.
"I'm really gutted that I wasn't able to finish the match. It's a shame also not to give that spot to someone else to at least try and do something with it," Tsitsipas said afterwards
"My doctors and the countless visits that I had in the past few days suggested that I play, gave me the green light to go and try it for myself. Unfortunately, I felt terrible on the court. I did what I could do to be ready and fit for this match, but it didn't work out for me."
Had Tsitsipas withdrawn before the match, first reserve Hubert Hurkacz would have played Rune in a live match with the Pole still having a chance to progress in the tournament.
"I hate retiring from matches," added Tsitsipas, who claimed the biggest title of his career at the event in 2019.
"I'm not the kind of person that likes leaving mid match. It kills me not to be able to finish this tournament. But this is tennis. This is not darts. For me, it's important to be fit and feel good with my back. The pain was very big."
It counts as a first victory at the tournament for 20-year-old Rune, who was edged out by Novak Djokovic in his opening match.
"It was very unfortunate," said Rune on Amazon Prime Video. "I think we could all see in his first service game that he wasn't serving anywhere near full.
"For sure I knew something was up. We play a long season and it's important to take care of the body. I wish him all the best."