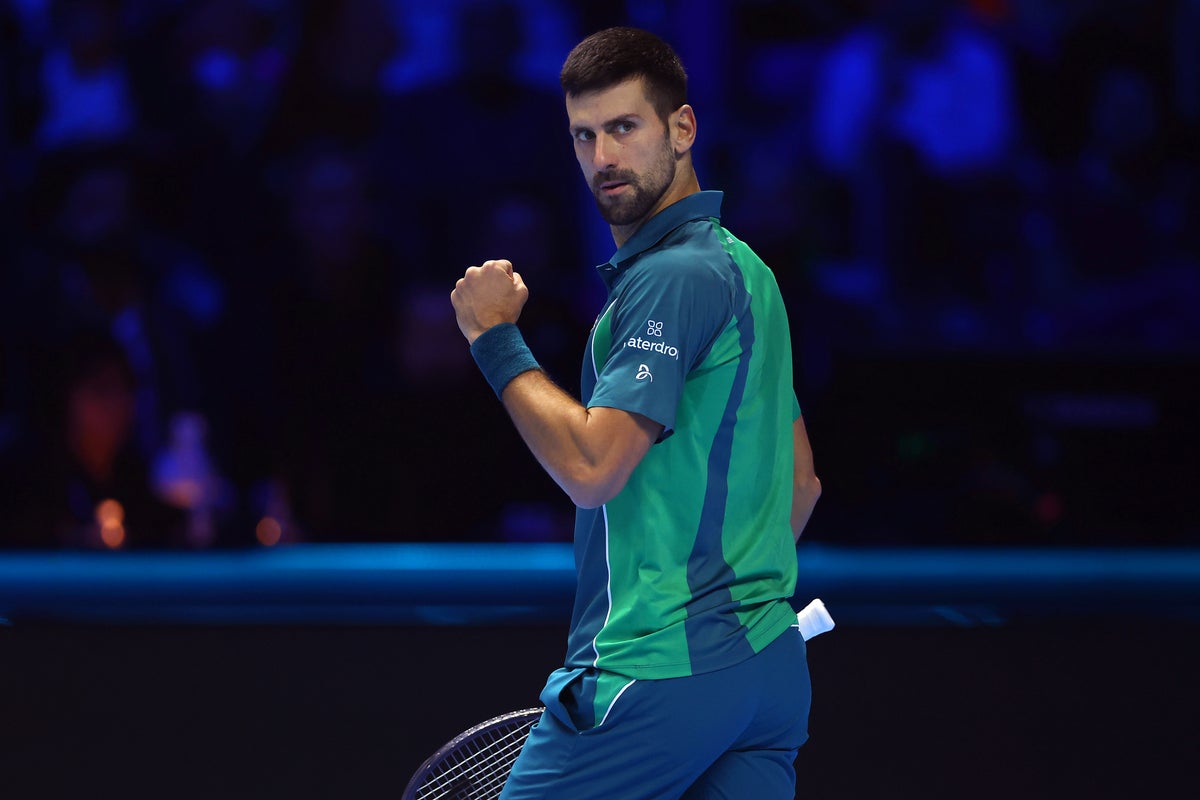 Sinner – Being 'brave' and 'intelligent' was key to statement win over Djokovic
Novak Djokovic bids for a record seventh ATP Finals title in a blockbuster showpiece against home favourite Jannik Sinner in Turin.
Djokovic secured an emphatic victory over young rival Carlos Alcaraz in the semi-finals on Saturday and is now out for revenge against the 22-year-old Italian Sinner, who defeated the World No 1 in the group stages earlier this week.
Sinner has been in red-hot form in front of his home fans in Turin and is looking to win the biggest title of his career at the season-ending tournament. He beat Daniil Medvedev in the semi-finals to continue his winning streak this week.
Djokovic, meanwhile, is targeting a record victory at the ATP Finals after a dominant season which has already seen the Serbian win three grand slam titles and secure the year-end World No 1 ranking.
Follow live updates from the ATP Finals title match between Djokovic and Sinner, below:
ATP Finals LIVE: Novak Djokovic vs Jannik Sinner latest score and updates
Show latest update
1700419546
ATP Finals: *Djokovic 6-3 4-3 Sinner
That's another gutsy hold from Sinner, who wins an epic 16-minute game!
It was a bit of a gift from Djokovic, though, who had break points and then missed a very simple backhand volley on the final deuce.
Sinner, who also wasted chances earlier in the game, eventually gets the hold with an ace out wide.
The 22-year-old is still in it… but the Italian came close to the brink there.
Even Djokovic could not believe that miss…
(Getty Images)
Jamie Braidwood19 November 2023 18:45
1700418316
ATP Finals: Djokovic 6-3 4-2 Sinner*
For the first time in the match, Sinner wins the first point on Djokovic's serve. Then the Italian crushes a backhand winner crosscourt! 0-30, and the Turin crowd sense an opportunity!
Now Djokovic pulls a simple forehand wide! What is happening?! Two break points for Sinner, and the roof will come off the Turin arena should he take one…
Oh but how he would want these returns back… Sinner can't get the return back in play and Djokovic takes charge again to keep his opponent away.
An awesome backhand down the line from Djokovic, and he passes his first real test of the match. Sinner thumps the sideboard as a rare chance goes begging.
Jamie Braidwood19 November 2023 18:25
1700417971
ATP Finals: *Djokovic 6-3 3-2 Sinner
Sinner is hanging in here. The 22-year-old manages to scrape his way through another service game to stay in the match.
But against Djokovic's serve, and this accuracy, he will need something special.
Jamie Braidwood19 November 2023 18:19
1700417747
ATP Finals: Djokovic 6-3 3-1 Sinner*
Djokovic is producing one of the best serving performances you will ever see.
Sinner, the fourth best player in the world, has won just TWO points against the Djokovic serve in the ENTIRE match.
Jamie Braidwood19 November 2023 18:15
1700417512
ATP Finals: *Djokovic 6-3 2-1 Sinner
Sinner stops Djokovic's run of points at 10 as he wins a gutsy backhand duel but the World No 1 senses an opportunity and does not relent for a moment.
The Serbian had a huge opportunity to claim the second break of serve as he lined up a forehand down the line, but he clips the net cord and it goes out.
Reprieve for Sinner? We'll have to see – but that's a big hold of serve after staring down the barrel of a double break.
Jamie Braidwood19 November 2023 18:11
1700416991
ATP Finals: Djokovic 6-3 2-0 Sinner*
Two aces in a row from Djokovic – out wide on either side – as he wraps up his opening service game to love.
That's eight points in a row to start the second set…
Jamie Braidwood19 November 2023 18:03
1700416823
ATP Finals: *Djokovic 6-3 1-0 Sinner
The pressure from Djokovic is unrelenting as he jumps into a 0-30 lead on Sinner's serve.
From there, Djokovic simply does not miss. He produces outstanding depth to the baseline and Sinner challenges in vain after Djokovic clips the baseline.
Another long rally – and Djokovic does not blink. He breaks to love to start the second set. Ominous.
Jamie Braidwood19 November 2023 18:00
1700416387
ATP Finals: Djokovic 6-3 Sinner* – Djokovic wins the first set!
Djokovic roars on the opening point and pumps his fist after Sinner goes long at the end of a brutal baseline rally… the home fans don't like that.
Another fist pump from Djokovic, this time as he lands an ace out wide. Djokovic stares the crowd down…
That's wild from Sinner on the backhand return – miles out – it brings up three set points for Djokovic.
Djokovic has tamed the Italian and the Turin crowd so far. Long way back for Sinner here.
(Getty Images)
(Getty Images)
Jamie Braidwood19 November 2023 17:53
1700416123
ATP Finals: *Djokovic 5-3 Sinner
Sinner forces Djokovic to serve it out.
Given Djokovic has barely dropped a point on serve through this first set, it would either be a total collapse from the World No 1 or something rather special from the young Italian.
Jamie Braidwood19 November 2023 17:48
1700415858
ATP Finals: Djokovic 5-2 Sinner*
A hold to love for Djokovic, sealed as Sinner struggles to deal with Djokovic's sliced serve up the T.
This has been a real statement from the Serbian so far, to add to that spellbinding win over Carlos Alcaraz yesterday.
Jamie Braidwood19 November 2023 17:44